March saw increases in sales across the entire region and in many areas, an increase in average sales price as well. It would be easy to say the market is rebounding by looking at these stats alone. However, that may not be the case.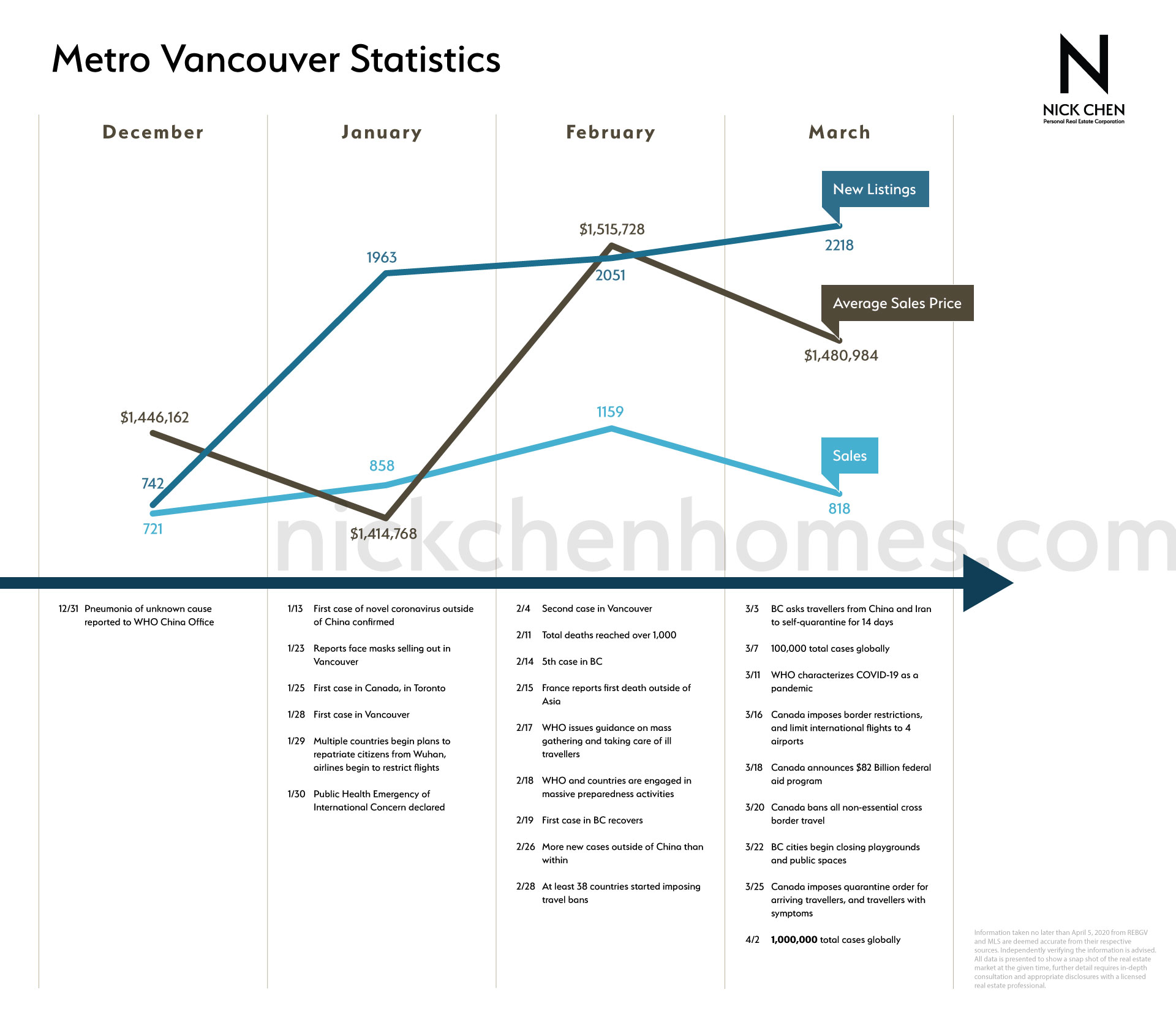 For example, Vancouver Detached Homes sales for March is in the graph below: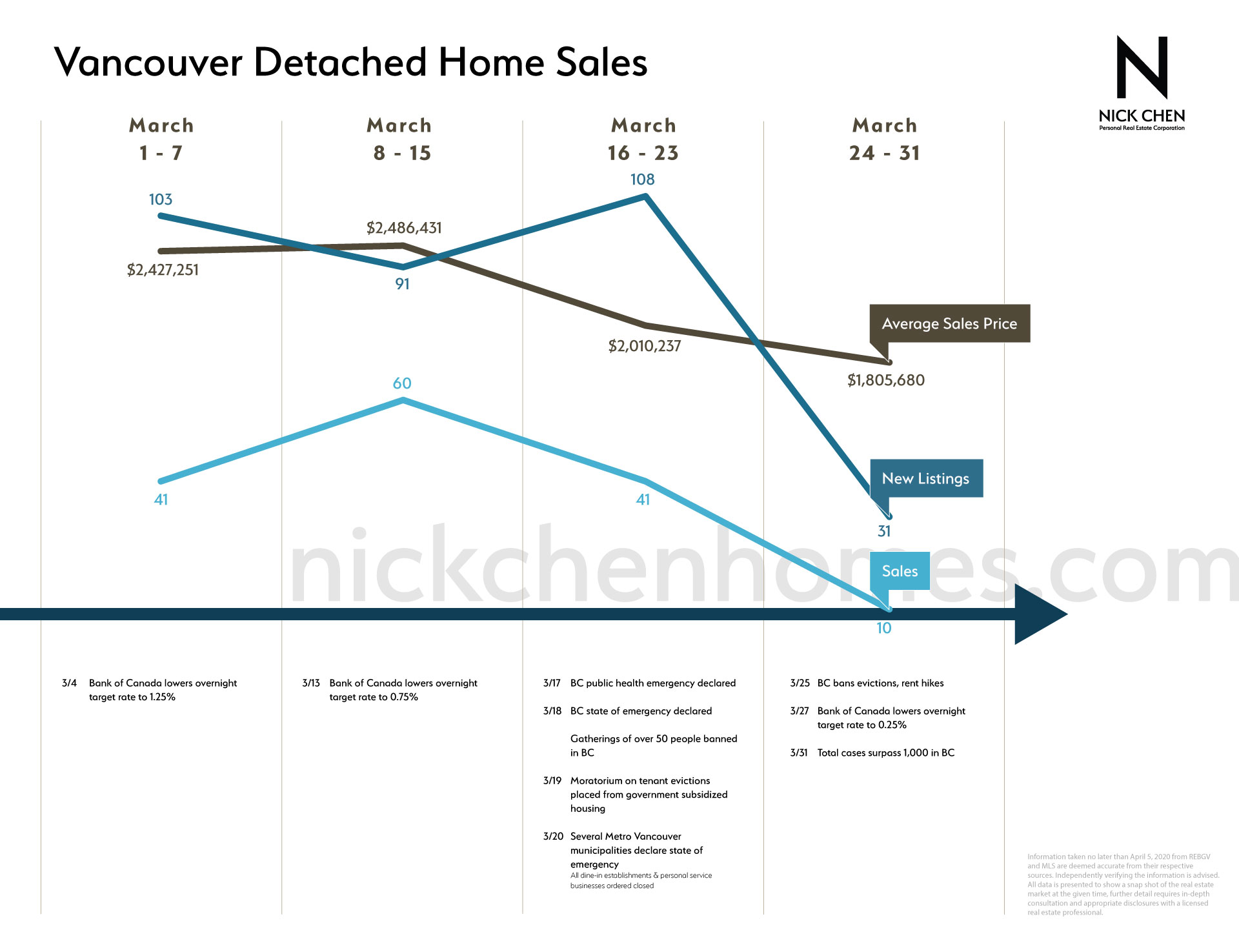 Noticeably the number of sales between the first and second halves of the month is interesting. The dropoff also corresponds to the dates preventative measures were put in place by the government to combat COVID-19. This is not unique to Vancouver, other municipalities and saw the same pattern.

It is not out of the question to assume the trend of low transactions will carry through the end of April and perhaps, beyond, pending the situation with the pandemic. People are actively discouraged from venturing outdoors, which only adds to the increased difficulty of getting enough buyers into listings to write offers. This month's video touched on some additional reasons the real estate market is likely to remain cold, they are as follows below:
"[…] other financial consequences of the virus include the stock markets plummeting, poor global economic prospects, businesses suffering potentially fatal losses, and people losing their income. […] In an attempt to flatten the curve, all levels of government have implemented measures to stop the virus from spreading. And as a result, real estate activities are directly affected. For example, some buyers do not want to risk going out to view homes and some sellers are willing to take them homes off the market or stop showings indefinitely in an attempt to limit the occupants potential exposure to COVID-19".
Further to that, some sellers are also restricting buyer access pending an accepted offer with subject to view. This will be especially prevalent for tenanted properties, where the tenants now have full authority to decide whether they will allow buyers into the homes for viewing. Clearly this will affect the number of offers listings receive and the offering price. Pictures and virtual tours can only do so much and are easy to manipulate to show the buyers the best points, which is exactly the purpose they serve.
For more details on the new provincial rental policies:
Rent increases frozen: Until the state of emergency is over, there is a rent freeze on annual rent increases. Starting April 1, landlords won't be allowed to raise rents, and rent increases scheduled for April 1 won't apply.
Rental assistance: Up to $500 per month for 3 months, paid by BC Housing directly to landlords on behalf of tenants of low to moderate incomes.
No evictions: Moratorium on evictions (current and future), with only a few exemptions for extreme health or safety concerns, until the COVID-19 crisis has passed.
Entering suites: Landlords are now very restricted in their ability to enter suites. A landlord may not enter without the tenant's permission for regular maintenance or to conduct showings, but the landlord is allowed to limit access to shared amenity spaces to help contain the virus.
Additional assistance: As pledged previously, the Province will make a one-time payment of $1,000 to people struggling with the COVID-19 crisis.
Going back to the measures mentioned previously, further trouble may be ahead for homeowners and their mortgages. Again from my video;
"[…] In the cases where landlords are not receiving rent from tenants, a significant part of their ability to pay their mortgages could be affected. And even though some banks may offer to defer the payments to a later date, the interest is still adding up and will put even more pressure on homeowners. Combined with the fact that some of these homeowners are without work or have had their income substantially reduced, the negative implications on the market could be continuous well into 2021"
It is understandable that the government would recommend lenders to allow deferred payments, and they are currently doing so, but the main point is the amount owing isn't less. Unlike the "no-evictions" policy for tenants, which will be abused by some tenants into outright not paying rent, landlords / homeowners do not have that luxury. The tenants may argue hardship and have rent forgiven, but the landlords / homeowners will still need to pay their balance owing with accrued interest at the end of the deferred period. Anyone can see the potential dangers of this domino effect. Remember, you must speak to your mortgage broker or lender to communicate your need for deferment or to explore other options such as refinancing. (source)
On that topic, even though the Bank of Canada lowered the overnight rate target to 0.25%, lenders are generally not following suit. Due to the unemployment and disruptions to trade for prolonged periods of time, lenders deam real estate to be a "risky asset". In fact, the lending rates in some cases are increasing to reflect the new outlook. (source; source)
No one can predict what will happen in the coming weeks, months, and year. SARS, MERS, nothing affected the global economy like COVID-19 is doing right now. The risk takers will be out there, viewing homes and seeking opportunities. The sellers, those that decide to do so for any number of reasons, will continue to list their homes. In all cases, I will take all precautions to protect myself and those around me and help my clients make the best decisions based on the most reliable information available at the moment.
Stay safe out there, send me an email if you'd like to chat more