Uncertainty isn't always a bad thing when it comes to the market stats. It sometimes feels good to be kept in suspense. The past two years have been full of this particular feeling, particularly when looking at the real estate market. Both buyers and sellers have come to expect different sale price expectations. This is why buyers see certain listings stay on the market for long periods of time where other listings are selling more quickly. We are actually seeing that the number of sales is noticeably greater than this time one year ago. However, looking at the month-to-month stats starting from mid-fall 2019, we are seeing a decrease in the number of sales.
What can we expect going forward?
It's important to know that there are still many buyers shopping around. While this may be so, sellers are still a little hesitant to list as they are waiting to see if the market picks up. They might just be waiting for spring to come to see where the market stands at that time. The supply of homes on the market has decreased since mid-fall, which makes sense for the decrease in sales. All in all, it's still too early to tell what will happen and what the tipping point will be for the numerous buyers looking but not writing.
Neighbourhood picks
Below are the two neighbourhoods that we focused on this month from different areas of Greater Vancouver. Both of these areas are becoming known as hubs and growing developments.
New Horizons Coquitlam and North Coquitlam
New Horizons Coquitlam is a residential neighbourhood on the Northeast side of the city. With an abundance of amenities and outdoor activities surrounding it, such as Lafarge Lake, Town Centre Park, Coquitlam Shopping Centre and a number of grocery stores, the area has become popular over the years.
There is a good mix of condos, townhouses and detached homes in the area, and no matter where you are, you can easily hop on a bus that will take you to where you need to go.
The average sold price for the condos and townhomes sold in this neighbourhood were generally a little lower than the average list price with 5 listings out of 33 selling at or above listing price.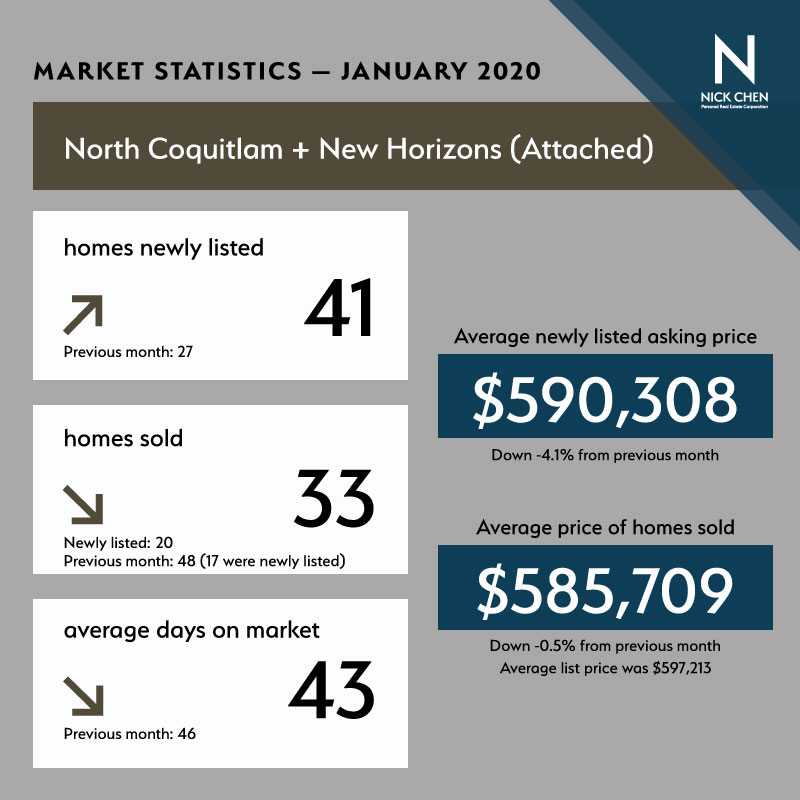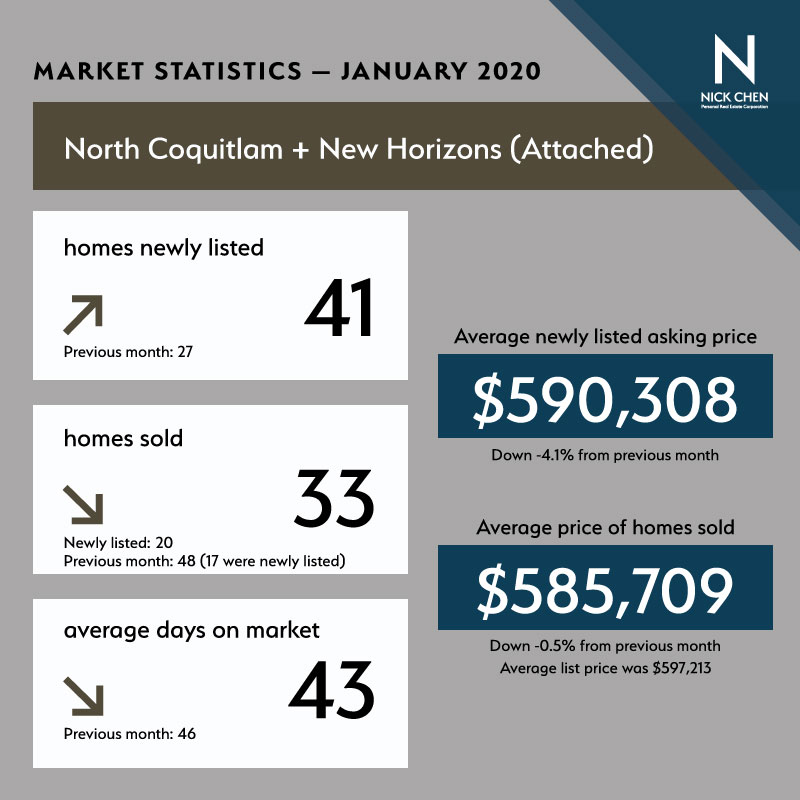 Surrey – Whalley
Whalley is a historic community in Surrey. The name came from Mr. Arthur Whalley, who settled near the King George Boulevard and 108th Avenue in 1925. The area sits in the northwest of Surrey along the Fraser River. The neighbourhood sports many public facilities, such as Surrey City Hall, Surrey City Centre Library, and North Surrey Recreation Centre.
Quite a number of homes were listed in January. Whalley saw 91 homes on the market with 47 of them sold. The average sold price was indeed lower than the average list price, however, like in New Horizons, 5 out of the homes sold were at or above asking price.