What We Are Seeing
Continuing from the slow down of the real estate market started in mid March, last month in April saw a decrease in number of sales, active listings, and average sales price. This can be attributed to the social distancing measures being in full effect for an entire month and a half, resulting in a limited number of active buyers. In response to the decrease in the number of buyers and to minimize exposure to the virus, some sellers have restricted showings or took their homes off the market altogether.
However, as you will see in the statistics below, the average sales price did not change substantially for most markets when compared month over month and year over year. This can be attributed to a number of factors; the low supply of options for buyers in popular areas, limited competition from other buyers, and simply the sellers unwillingness to reduce prices. That being said, some homes are being very sharply priced and are able to generate multiple offers, selling very close to or just above asking price.
Market Summary
These are the overall sales stats below: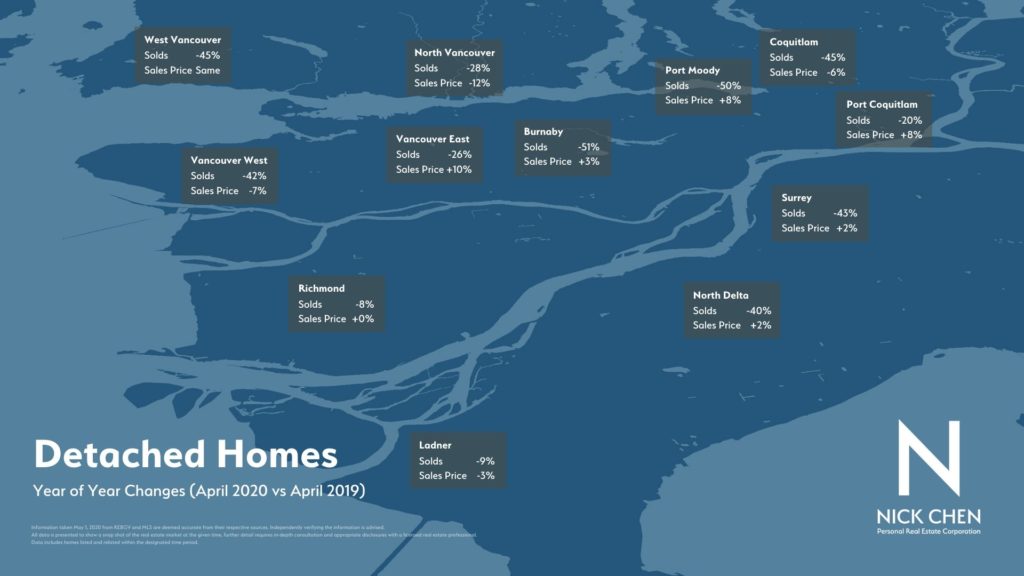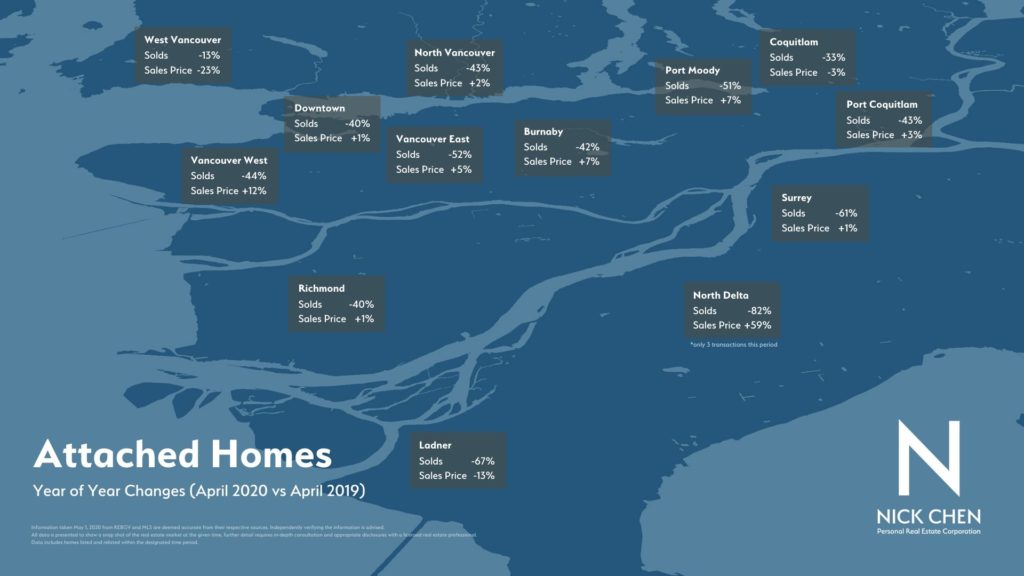 [Source: Snapstats]
What's Next
What of the coming weeks? Speculation ranges from a fast and furious recovery of the market to a slow process that won't be fully realized until the tail end of 2021 or even 2022. A number of factors will affect the recovery. A few of them include, the time it takes for social distancing policies to be relaxed enough to allow for normal economic activities; the speed of which buyers are able to recoup their savings for down payment; and the ability of businesses and the general population to recover their regular income.
From March to April 190,900 jobs were lost and from 1 year ago, 278,700 jobs were lost (Men and Women 25 years and older; source) in BC. A significant portion of that would be from right here in metropolitan Vancouver. This puts a large portion of the market on hold with their buying ability delayed. The risk extends to home owners that depend on their income for mortgages or that depend on their rent revenue from investment properties to stay afloat.
Truth of the matter is we still will not know the full economic impact of the virus until it's closer to being fully contained. The coming week will see easing of social distancing rules. We already see more buyers out viewing homes compared to a week and a half ago. With the still low lending rates and Bank of Canada keeping interest rates down, there's a possiblilty we could sale sales figures go back up to the pre-COVID 19 days.
News of Note This Month