Yaletown is often described as a neat little area of Vancouver where you are met with the calm of the oceanfront seawall and the excitement of an artsy city. There are so many great things to enjoy in Yaletown.
Buildings along the streets Mainland and Hamilton between David and Nelson are height restricted in order to protect the views of Vancouver's natural beauty. It is similar to Granville Street in downtown. These streets are also known for being home to tech startups and highly desirable beautiful loft style homes
Yaletown is home to many eclectic shops, fancy boutiques, and exquisite restaurants. One of the most exciting projects includes the new Smithe and Richard Park.
Smithe and Richard Park
What currently sits as a vacant lot at the corner of Smithe and Richard Streets will soon experience a transformation. It will transform into a new major urban public park in downtown Vancouver. The development of this project has already been several years in the planning. The goal is to deliver a new park and outdoor recreation space for the residents of downtown south.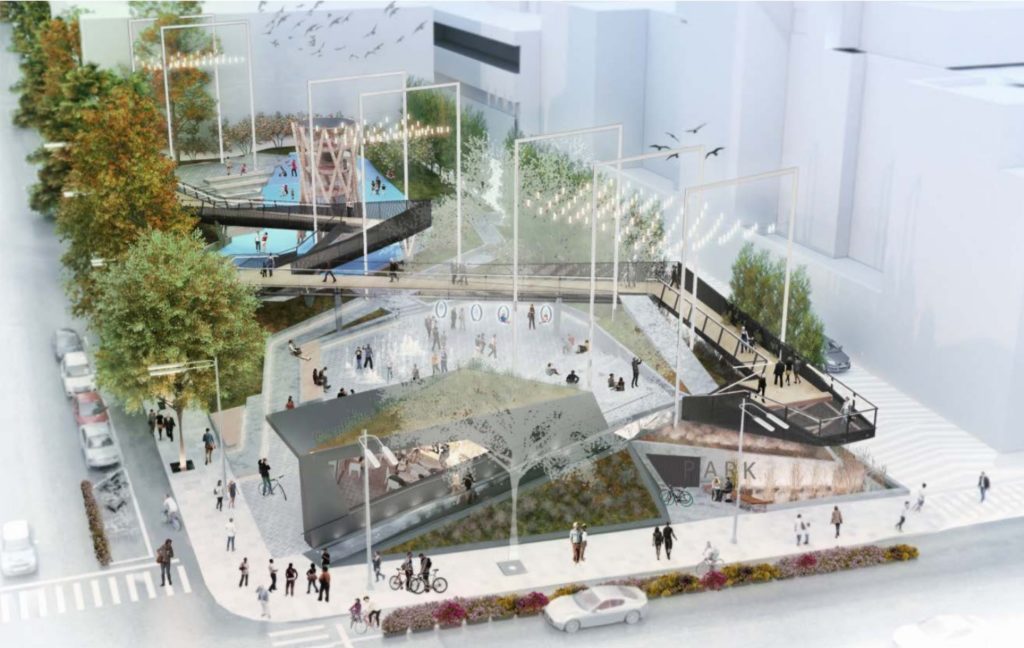 For a few decades, the Park board has been acquiring land to construct parks that serve the needs of the city's growing high-density community. The aim of this project is to deliver a complete and liveable community for a diverse range of individuals and households. Due to land cost escalation and limited land available, it's becoming increasingly challenging to find opportunities to create parks in Downtown South.
It is expected that with the construction of the 0.8-acre public park, the park will serve thousands of individuals within a 5-minute walk from the site, including 11,000 residents and 17,000 workers.
The park is also expected to relieve pressure on other nearby parks (including Emery Barnes, David Lam, and Coopers' Park).
Considering the Environment
The new Smithe and Richards Park was designed to support the City's Greenest City Action Plan goal in order to increase access to nature. An example of this is with the construction of a Café pavilion. This will provide a 30% reduction in energy use by using an air-source heating system with a heat recovery ventilator plus an insulated envelope construction with high performance windows.
The Park Design
The design of the park will respond and blend with the urban setting. It takes advantage of and utilizes the space in a creative way that will allow multiple vantage points and several ways to move through the park. And included in the design of the easy access walk path is an overhead walkway.
The park will likely be frequented by at least 30,000 individuals who are living and working within a 5-minutes walk. The design and material were selected specifically to reflect this anticipated intensive visits.
Features of the park
A public plaza that will be a multi-use space containing a seasonal water feature that reuses potable water for irrigation and public toilets;
A small café to serve food and beverages to the visitors feeling a little nibbly;
An engaging playground area for children to enjoy;
A community table designed for various programming;
Seating terraces for sun lounging and for enjoying plaza events;
Lush plants and trees to provide shade a bit stronger touch of nature. It will also act as a buffer for the city mumbles and traffic;
A rainwater infiltration channel to filter runoff from the laneway and also act as a buffer;
Fully accessible paths for all ages and abilities; and
Overhead sky-frames to provide overhead enclosure and a sense of vertical scale relative to adjacent buildings.
New Developments in Yaletown
This neighbourhood is constantly undergoing new development with new projects for both residential and commercial use.
The Tate on Howe
The Tate on Howe Street is a mixed-use development with a 41-storey residential tower. This development was intended to provide affordable housing to Vancouver residents. The building has 20 secured market rental units.
The Pacific by Grosvenor
The Pacific on Homer Street is a new condo development by Grosvenor. It is located in the hub of Vancouver only a short walk to False Creek.
Charleson
The Charleson on Pacific Street is a new condo development by Onni Group. The 42-storey mixed-use building has 269 residential units, of which 129 are rental units.
Vancouver House
Vancouver House is located on Howe Street. This signature building was designed by the award-winning and world-renowned "Bjarke Ingels Group".
The Mark
Just on Seymour Street, The Mark is a concrete 41-storey tower with a concrete exterior finishing and full rain screen. The complex boasts views of the False Creek from some suites and of the North Shore in others.
Arc
The Arc is a development by Concord Pacific set to be an iconic centrepiece to the False Creek Central Neighbourhood. There are plans to have over 55 towers built in the area.
8X On The Park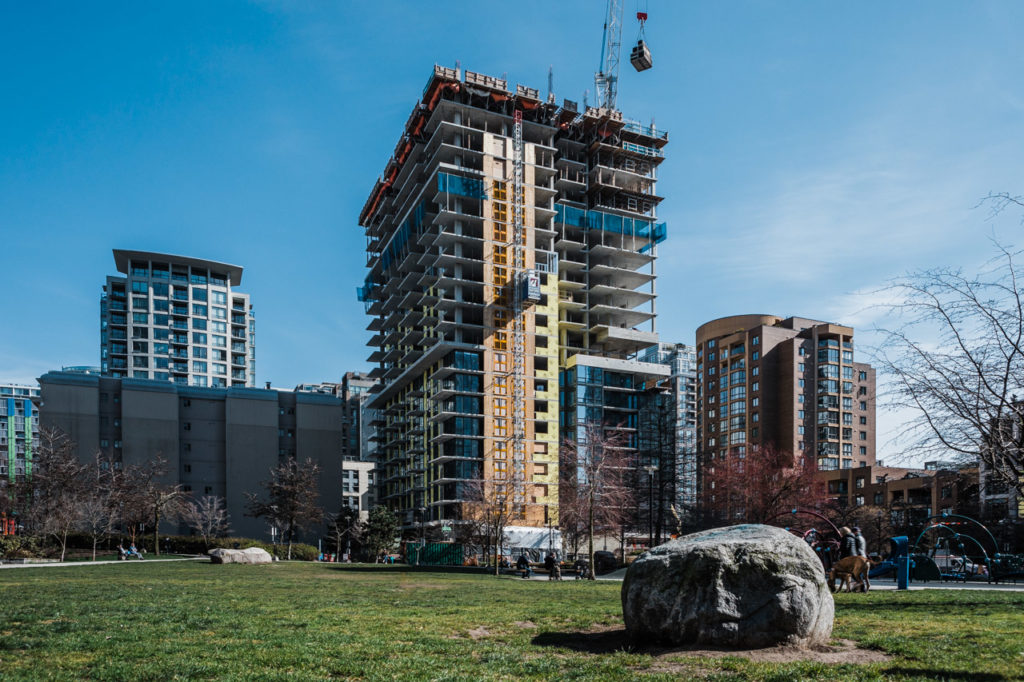 With 35 storeys of stunning sustainable design, 8X on the Park makes a bold architectural statement elevated above Emery Barnes Park. It is a unique build that you won't be able to look away from.
The Post
The previous sorting depot for Canada Post is also being transformed into a retail and business building complex. Occupying the entire city block, The Post will feature a shopping centre on its lower levels, with two office towers to complement the growth of technology industry in the city. Major tenants of the building will include Amazon and Loblaws.
Deloitte Summit
Some big-name companies have graced the streets of Vancouver. Deloitte Summit is a 24-storey office tower. Several clusters of four-storey steel framed cubes make up its body. They are all arranged around a central concrete core. With glass floors overlooking the city, this is exactly the type of work environment that inspires productivity and innovation. It is also what has drawn a few big-name companies to its doorsteps, such as Apple and Amazon for example.
Parq Vancouver
They say that incredible journeys begin at Parq Vancouver. This is Vancouver's premier entertainment destination is a great place for fine dining. The Parq is a waterfront property located downtown only steps away from Rogers Arena. What it's really known for is the cuisine. It contains five varied restaurants that will take diners around the world with menus that rotate seasonally.