Whether you work remotely or like a quick commute to downtown, River District offers the ideal work and life balance.
With a focus on sustainability, this gorgeous neighborhood encompasses all that modern singles and families seek in a community. The ever-growing list of retail and dining establishments, fitness centers, and centers for artistic endeavor allows residents the utmost convenience.
Most importantly, ten unique condominium and townhouse complexes with 7000 individual units give potential residents a myriad of choices.
Wesgroup's nod to the area's industrial history is easily identified in the River District's architecture. Open floor plans, ample natural light, and crisp contemporary styling give each unit a sleek yet simultaneously cozy feel.
In the River District's interiors and exteriors, the modern composition provides clean lines that guide your eye toward the bright and open spaces. The balance in the design delivers the feeling that the indoors is simply a continuation of the outdoors.
Thoughtful design goes beyond aesthetics, leaning into contemporary convenience, efficiency, and sustainability. Of course, there is plenty of room for growth in this relatively young community with promises of much more to come. However, unlike other developments, River District does not appear to be constructed upon the river's edge, but rather as a developing extension of the environment.
Impeccably designed units on offer today start at just $450k for a one-bedroom with 2-bedroom units starting at $550k. Of course, as this is an ever-evolving development, many new condos and townhomes are expected to enter the market in the area throughout the coming decade.
One of the single most impressive aspects of this 130-acre retail/residential space is Wesgroup and Polygon's commitment to furthering the ideals of sustainability in construction, design, and use.
Innovation, coupled with a commitment to maintaining the Fraser River's natural beauty, ensures that residents exist harmoniously within the river's ecosystem. Throughout planning and development, Wesgroup has employed novel approaches and cutting edge practices to ensure water, energy, and material conservation.
Turning an eye toward the importance of environmental responsibility, the ethical principles upon which this community is being built enhance residents' lives while protecting nature. One recent addition is the River District's Apiary, a home for one of our most valuable yet dwindling resources. Here, bees, kept to assist in the local ecology's upkeep, are protected as well.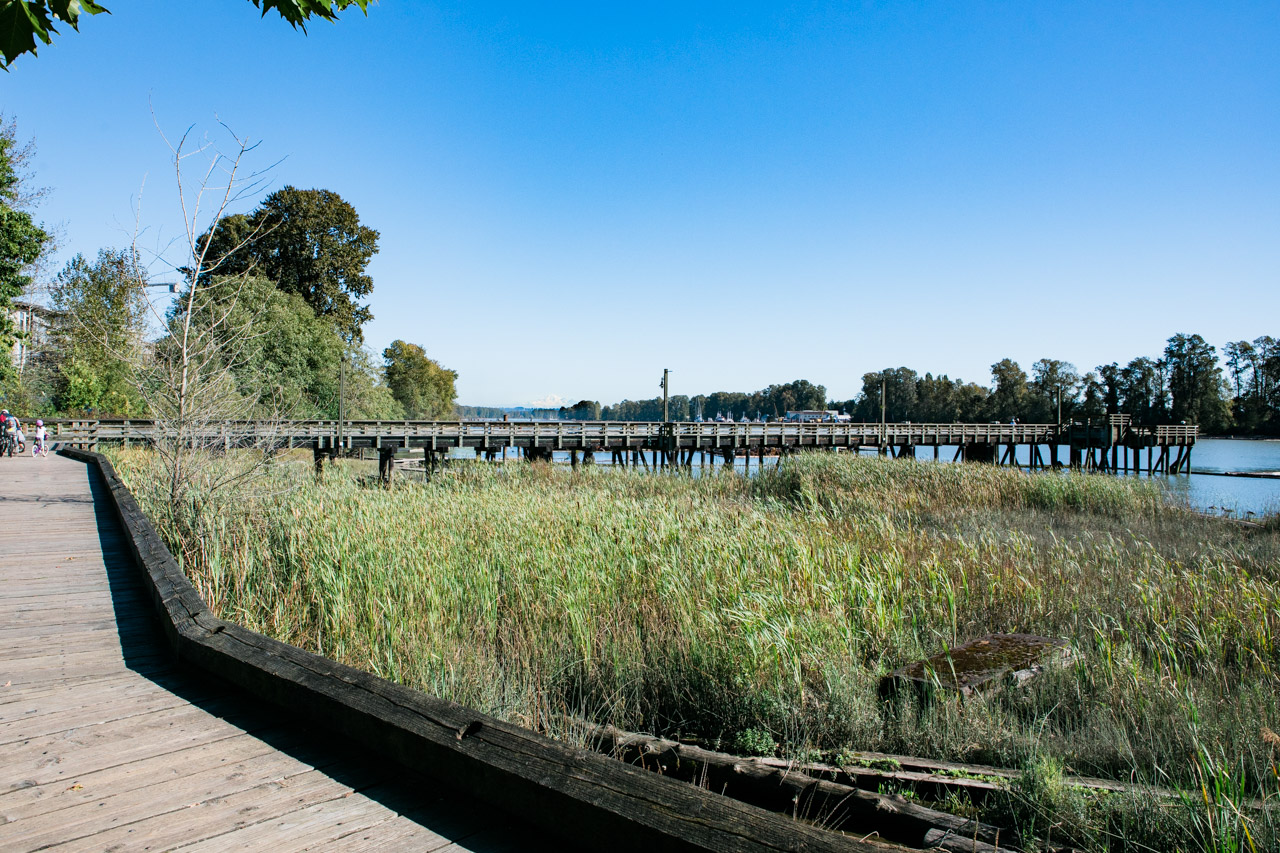 Green Spaces and Recreation
Imagine a place encompassing all of the conveniences of city life, yet all of the recreation and green space of country life. When not attending James Cook Elementary, Champlain Heights Elementary, or Killarney Secondary, the River District community's kids enjoy 25 acres of green space. Wide-open areas to run, play games, stay fit, and indulge in athletic pursuits include Everett Crowley Park, Riverfront Park, and Gladstone Riverside Park.
For a more relaxed outdoor adventure, bring your clubs out for a day on the stunning links of Fraserview Golf Course or meander along the Fraser Foreshore Trail. Everything that you want is mere steps from your doorstep in the River District.
Exemplary planning for the development has led to the community receiving ten national and international awards for urban design and community planning. However, what's most attractive about living in the River District is the sense of community. Friends are neighbors.
Bumping into a friend at the local Save-On-Foods or Everything Wine can lead to a walk along the river or an impromptu toast on a rooftop deck. Easy accessibility allows residents to meet for dinner at Sushi Mura River District or pop into Romer's Burger Bar for a quick bite and catch up. In this fast-paced life, we let connections slip.
A community like the River District gives residents the ability to save time with efficiency and convenience. With everything that you need at your doorstep, you can fit more living into your life.
Looking to buy your next home?
Let me help you with your real estate and home ownership goals today.